The Galway Astronomy Festival 2011 will take place on March 4th and 5th at NUI Galway and the 4* Westwood House Hotel. Now in its 8th year this event is frequented by many Irish astronomers and the theme of the event is "Life and Death in the Universe" with talks by well known amateur astronomers from the UK and Ireland. Full details of the talks and abstracts are now online at
www.galwayastronomyclub.ie
Friday March 4th Public Talk and meteorite Exhibition
"METEORITES AND FAMOUS IRISH FALLS" by Dr. Matthew Parkes, Natural History Museum, Dublin.
Date: Friday, 4th March
Time: 8pm.
Venue: NUI, Galway, Dillon Theatre
Free entrance, free parking
----------------------------------------------------------------------------------------------------------------
Galway Astronomy Festival "Life and Death in the Universe"
Saturday, 5th March Westwood House Hotel
9.00 – 9.45 am Registration
9.45 – 10.00 am Launch by Dr. Andrew Shearer, Director of NUIG Centre for Astronomy
10.00 – 11.15 Prof. Richard Butler (NUIG), The Creation Part II – Supernova 1987a
Served as head of the Chemistry dept Professor of Chemistry at NUI Galway from 1981 to 2008. Last spoke at the festival in 2007 with a talk on the organic chemistry of meteorites. He is a long-time amateur astronomer.
11.15 – 12.30 Prof. Chandra Wrickramasinghe (Cardiff), Cosmic Dragons: Life and Death in the Cosmos
Chandra Wrickramashinge, the scientist who caused a sensation when he proposed that life on Earth could have been 'seeded' from space. Is a distinguished astronomer who has made important contributions to the theory of cosmic dust with his late collaborator, Sir Fred Hoyle. Director of the Cardiff Centre for Astrobiology and holds the highest doctorate (ScD) from the University of Cambridge, along with several other international distinctions. He is an award-winning author and co-author of over 20 books and over 350 scientific papers
12.30 – 14.00 Lunch and optional Workshop with Dave Gradwell on "The Art of Solar Imaging"
Dave Gradwell has been interested in astronomy for 20 years and always leaned toward astrophotography. Starting from basics "Imaging the Sun", this workshop will instruct participants how best to take images of our most essential life-supporting star at its best. He bought a Coronado PST in 2006 and so began a long time infatuation with the Sun. From projection to high resolution imaging in multiple wavelengths, this talk is designed to ignite an interest in an object that is too often over looked.
14.00 – 15.00 Prof. Mike Redfern (NUIG), Black Holes and Alexander Anderson
Professor for astronomy at NUI Galway and more recently single Point of Contact (and Chair) of the Irish Node for the International Year of Astronomy 2009. Since retiring in 2009 he has devoted his spare time to public astronomy outreach
15.00 – 16.00 Dave McDonald (Kildare), Irish Asteroids and Near Earth Objects
Dave McDonald is an amateur astronomer based in County Kildare, discover of two asteroids, the first only the second asteroid discovered from Ireland - the first (9 Metis) having been discovered by Andrew Graham in April 1848 from Markree Castle Observatory in County Sligo. While only recently and during his study of the light curve of asteroid 5714 Krasinsky, he made the serendipitous discovery of an eclipsing binary star. Chair of the Irish Federation of Astronomical Societies, Dave is a regular contributor to the IFAS boards and to the affiliated clubs
16.00 – 16.30 Tea/Coffee
16.30 – 17.30 Tom Boles (Coddenham), Hunting Supernovae
Tom Boles is a British amateur astronomer who manages a private astronomical observatory in Coddenham, Suffolk. He is currently the most successful exploding-star-hunter in history, with over record 138 supernovae discovered, many up to 100 million light-years away. He has also held positions of President and Vice President of the British Astronomical Association and is a Fellow of the Royal Astronomical Society. He has co-authored three books on popular astronomy, including the 2008 Yearbook of Astronomy, More Small Astronomical Observatories, The Science and Art of CDD Astronomy, and has published numerous articles in several magazines such as Astronomy Now, Sky and Telescope
17.30 Raffle
18.00 – 19.00 Visit to the Robotic NUIG Imbusch Observatory (optional)
19.00 – Dinner including Dinner Talk by Dr. Andy Mc Crea (Past President of the Irish Astronomical Assoc and editor of "Stardust"), "A Search for some of the Darkest Sites in America"
21.00 Astronomy Table Quiz or Observing
Observing for the Galway Astronomy Festival will take place on both nights at Barna Golf club car park located on the fringes of Connemara which is home to some of the darkest skies in western Europe. From what you can see on the below photo, the golf club is situated on an elevated site with commanding views in all directions. It is exceptionally dark although being just 6 miles from Galway city suburbs. The lights in the distance is the Aran Islands and the near light is the security light at the Golf club which of course will be turned off.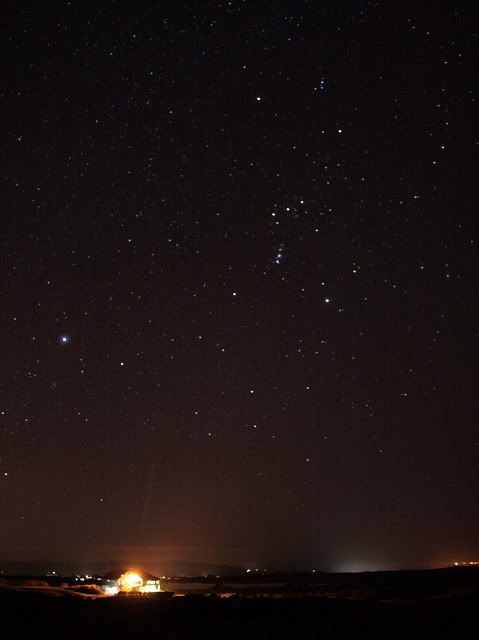 This year is bigger and better than ever with a host of trade and display stands, if anyone is interested in showcasing anything astronomical please PM us.
Stands and Displays
Centre for Astronomy NUIG
HitecAstro (Official Irish Launch) see
www.hitecastro.co.uk/
North Down Telescopes
Astronomy Ireland Shop
Irish Rocketry Society - Amateur Rockets of all sizes
Coddenham Observatory UK
Brownstone Observatory Ireland - Deep Sky CCD Imagining
Dave Gradwell Solar Astrophotography
Variable Stars observers Group
More to follow..
On the Accom front stay at the Westwood House Hotel on the Saturday night for only €79.00PPS, Dinner/B&B or €49.50PPS B&B and quote "Astronomy Festival"
We recommend you use
www.gohop.com
for finding connections to Galway from your location of departure.
Galway Airport is 6 km from Galway city centre. The airport is serviced by flights from:
Dublin
Cork
London
Luton
Manchester
Edinburgh
Leeds Bradford
Cardiff
Lorient
Bristol
Newcastle
Belfast
All services to Galway Airport are provided by Aer Arann and Flybe further details on flight times etc can be found on Aer Arann, Flybe and Galway Airport website.
Ronan Newman
Secretary
Galway Astronomy Club
www.galwayastronomyclub.ie