I have a 6" Skywatcher Schmidt-Cassegrain Telescope with motorized mount.
Having seen someone taking cell-phone images through the eyepiece on Stargazing Live, I tried the same thing with my compact camera. (Olympus 14MP with 10x Optical Zoom). Eventually I managed to get a slightly fuzzy image by aligning the camera on a separate tripod, but this was definitely more trouble than the result justified.
So, I looked into using the video function on the camera with stacked images and made a bracket to align the camera with the telescope eyepiece. This is basically a sleeve which fits very tightly to the eyepiece and is a snug fit around the camera lens.
Here is my first (and best) stacked image of Jupiter.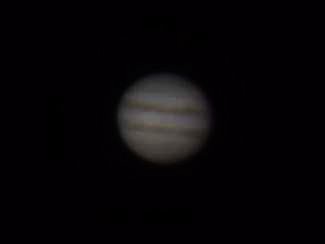 I tried different frame-rates and resolutions of the video, but was unable to get any improvement.
I have two questions as to how to procede:
Could I get better images using the equipment I currently have, and if so, how?
Would it be possible to get better images with a modified HD webcam such as the HP-4110? ( I have seen this modified to fit inside the eyepiece holder )
I am aware that I can buy bespoke CCD units, but the ones I have seen are expensive, or low quality.
Thanks
Aba