Hi Dave,
That was quite an interesting experiment! I have done this on Yahoo messenger before and it worked out really well but this was the first time I tried relaying images from my telescope in realtime over Skype. It worked out quite well I thought. It's a shame the Philips Toucam doesn't show a very sharp real time image. The real detail only cames out after processing.
I processed all the AVI's I captured tonight in registax v3. Seeing condition are moderate to poor tonight. I noticed a lot of quivering and rippling in the AVI file. There was a very slight amount of high altitude haze in the sky and since I didn't have to use a dew shield tonight I'm assuming the atmophere was quite dry.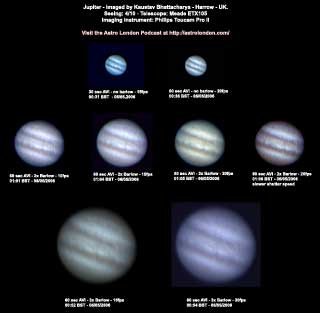 After imaging I took in the view with my eyes through the telescope instead of via the laptop. The four moons were lined up in almost a straight line. It was quite a spectacular site.
_________________
Kaustav Bhattacharya
>>
http://kaustav.uk.com/unisphere/
- An online magazine about Astronomy, Science, Social Media and Society.
>> Follow me on Twitter @jupiterorbit